The Fragrances of Japan Collection
"The way of the samurai"
"The way of the samurai" is a way of action and deportment that has been handed down in samurai households over the generations. It conveys the stance of preparedness which stems from the very heart of the samurai ethic. It is a spiritual philosophy of mental and physical self-discipline, unflagging devotion to the cause, the seeking of harmony, and the protection of the weak.
The integrity with which Awaji Island Koh-shi explore aroma is comparable with the dignity and bearing of the samurai.The infinite passion for aroma and seasoned skills of these Koh-shi culminate in this collection of incenses, complete with the names of each of the 14 "incense masters."
Each product is imbued with the creator's pride in and responsibility for his work. Awaji Island, the greatest producer of aromas in Japan, delivers to all incense aficionados the Bushiden collection from the Japanese Fragrances Series.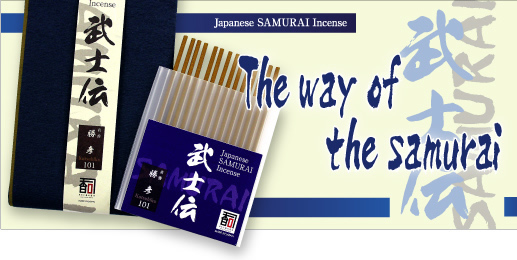 Click images to see details